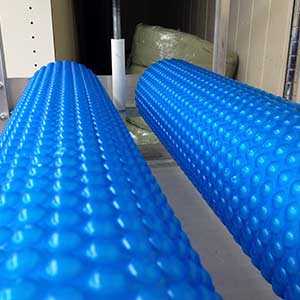 How it Works
- solar blanket covers float on the water surface. the air bubbles create an insulating layer which traps heat in the pool
- for a more detailed explanation
Applications
- the heavier grade 500 micron solar blanket is ideally suited to both residential and commercial/school pools
- solar blanket covers suit pools relying solely on the sun for heat
Construction
- a layer of dimpled clear plastic laminated to a layer of flat clear plastic
- the plastic is u.v. stabilised and formulated specifically for the harsh environment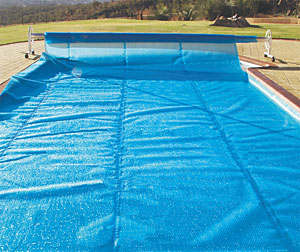 Cover care
- never shock dose the pool while the cover remains on
- never shock dose the pool while the cover remains on
- using a reel will extend the life of the cover
- use a shroud when the cover is on the reel during the peak of the summer
Why heat it?
- have more enjoyable swimming conditions
- have a longer swimming season
Radiated heat loss
- heat transfers from hot to cold. when the air temperature is lower than the water temperature heat will radiate out of the water into the air. this typically occurs at night and on colder days. the pool blanket acts as an insulating barrier to minimise this transfer.
- thermal resistance (R) is a measure of insulation effectiveness. heat is transferred from one material (water) to another (air) by conduction, convection and/or radiation. insulators minimise the transfer of heat energy. the R-value is an indication of how well a material insulates
Evaporation heat loss
- the majority of the heat loss (approx 95%) is through evaporation.
- a pool cover provides a physical barrier which virtually eliminates evaporation
- preventing evaporation provides the additional benefit of reducing the need to continually top with tap water
Why choose a cover?
- low initial cost
- no ongoing heating costs
- a cover can reduce your heating energy requirements by up to 70%
- can be used in conjunction with heating systems
- if you are thinking about pool heating your first step should be a cover. if you find you require more heat then the next step is to invest in a heating system
You can buy it here, via our portal for Online Shopping at "CASA POOLS ONLINE SHOPPING"

Swimming Pool | From Wikipedia, the free encyclopedia
- A swimming bath, wading, paddling, or simply a pool, is a man-made container filled with water intended for swimming or other water-based recreation. It can be built either above or in-ground, and be constructed from materials such as concrete (also known as gunite), metal, plastic or fiberglass. Pools can be decorative or custom shape and size, or they may be standard sizes, the largest of which is the Olympic-size swimming pool.
- Many health clubs such as the YMCA, fitness centers and private clubs have public pools used mostly for exercise. Many hotels have pools available for their guests. Educational facilities such as schools and universities occasionally have pools for swimming or physical education classes, or competitive athletics such as swim team. Hot tubs and spas are pools with hot water, used for relaxation or therapy, and are common in homes, hotels, clubs and massage parlors. Swimming pools are also used for diving and other water sports, as well as for the training of lifeguards and astronauts.
History | From Wikipedia, the free encyclopedia
- Modern replica ancient Roman baths in Bath Spa, England, United Kingdom
- The "Great Bath" at the site of Mohenjo-Daro in modern-day Pakistan was most likely the first swimming pool, dug during the 3rd millennium BC. This pool is 12 by 7 metres (39 by 23 feet), is lined with bricks and was covered with a tar-based sealant.
- Ancient Greeks and Romans built artificial pools for athletic training in the palaestras, for nautical games and for military exercises. Roman emperors had private swimming pools in which fish were also kept, hence one of the Latin words for a pool, piscina. The first heated swimming pool was built by Gaius Maecenas of Rome in the first century BC. Gaius Maecenas was a rich Roman lord and considered one of the first patrons of arts.
- Ancient Sinhalese built pairs of pools called "Kuttam Pokuna" in the kingdom of Anuradhapura, Sri Lanka in the 4th century BC. They were decorated with flights of steps, punkalas or pots of abundance and scroll design.
Solar Water Heating | From Wikipedia, the free encyclopedia
- Solar water heating (SWH) is the conversion of sunlight into renewable energy for water heating using a solar thermal collector. Solar water heating systems comprise various technologies that are used worldwide increasingly. Solar water heating is growing fast around the world, as more people relying on Soalr energy.

What is Online Shopping? | From Wikipedia, the free encyclopedia
- Online shopping or e-shopping is a form of electronic commerce which allows consumers to directly buy goods or services from a seller over the Internet using a web browser. Alternative names are: e-web-store, e-shop, e-store, Internet shop, web-shop, web-store, online shopping, online shopping storefront and virtual store. Mobile commerce (or m-commerce) describes purchasing from an online retailer's mobile optimized online shopping site or app
What is Online Shopping? | From Business Dictionary
- The act of purchasing products or services over the Internet. Online shopping has grown in popularity over the years, mainly because people find online shopping convenient and easy to bargain shop from the comfort of their home or office. One of the most enticing factor about online shopping, particularly during a holiday season, is that online shopping alleviates the need to wait in long lines or search from store to store for a particular item..