CASA POOLS,

Luxury

Swimming Pools

are made

from fiberglass-reinforced plastic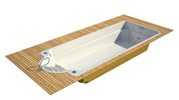 molded into a basin shape.
Made in the EU, Head office in Lebanon.
The smooth, nonporous surface of CASA POOLS' fiberglass swimming pools is inhospitable to algae and requires less brushing than other swimming pools. Fiberglas swimming pools feature molded one-piece construction, they can be installed in less time than it takes to construct their concrete counterparts. Typical CASA POOLS swimming pools can be installed within one weeks of arrival at a home's site. more..