AQUABIKE
Aqua Bike is constructed mainly of rotomold, ideal for use in leisure pools, health facilities and rehabilitation centers.
It weighs only 16 kg, therefore allowing it to be trans-ported quickly and easily into your pool.

Being mostly made of rotomold, maintenance and wear are reduced to a minimum, this helps for better product quality and increased durability.

Aqua Bike is adaptable to the depth of your pool ranging from 120 cm to 170 cm, it can be used with or without water shoes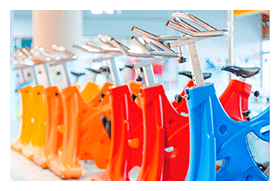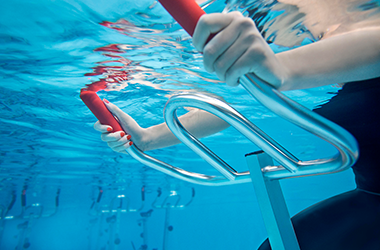 The use of this equipment has enabled wear, maintenance and upkeep to be kept to a minimum. Moreover, the saddle, the handlebars and the pedals are made from 316L stainless steel, which is a guarantee of durability. Weighing only 16kg, it is not only easy to move (thanks to its two front castor wheels), but it is also easy to use and get out of the pool. Its innovative design makes it extremely stable.

Representing excellent value for money, this aqua-bike can be used for sport or therapy with several advantages: it provides a real aquatic massage which invigorates and prevents legs from feeling heavy, it requires major energy expenditure which assists in losing weight, strengthens the heart and the respiratory system and, as an additional advantage, the aquatic massage counteracts cellulite.

Also, aqua-Bike gives the user the option to pedal forwards and backwards, which makes therapy more efficient. Two types of bike are available, with or without resistance adjustment to regulate the level of pedalling difficulty.
LOCATED IN LEBANON?
We are on promotion there, only $2400!!
Water bike robust, performance and design... Available in 6 Colors