Made by TILESTONE POOLS, france. A Swimming Pool, SPA, or a Jacuzzi, an experienced monobloc tiled pool and spa manufacturer with no limits of size, shape and interior materials like glass mosaics, ceramic tiles or natural stone.

All range of pools can be supplied with MARINE Inox pool parts made by our factory, aswell we supply pools with ready fit automatic pool covers, pump rooms or full pool automatisation systems, LED lightning, overflow systems and more..

one piece pools and spa with overflow and skimmer filtration systems, one side overflow or infinity edge. Custom made multiple element pools are also possible with multiple possibilities of installation.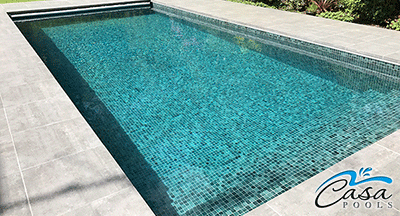 Made in the EU, by LUXE POOLS